History
1. The Vets' first race on the Tideway, 1986
Roger Grubb, March 2016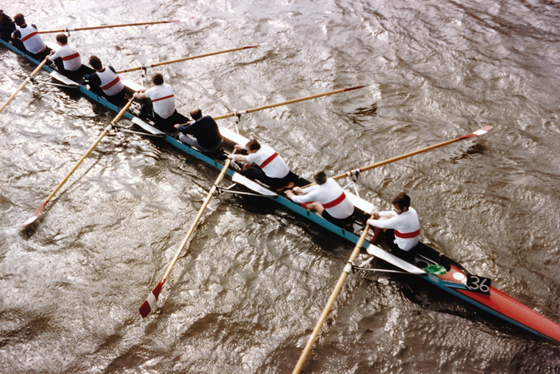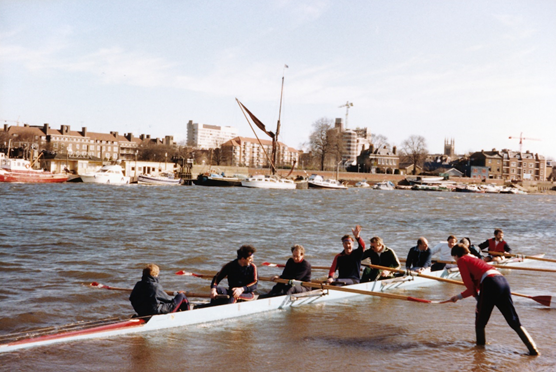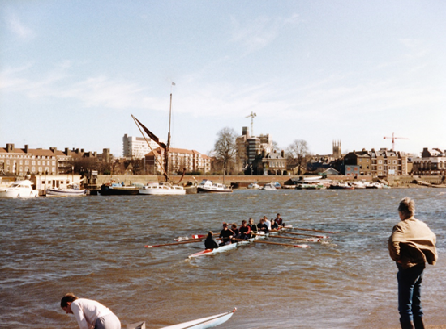 You will probably be aware that we have a crew entered in the Vesta Veterans' Head of the River Race this coming Sunday.
What you may not know is that it is thirty years ago since we first entered this event. It was the first Tideway race that we had ever entered and our ambition was just not to come last.
We were Sherriff Club members and (except for Allan Culley) complete novices who had rowed occasionally together since the 1984 Christmas Pudding Races – alternate Sundays in summer and a few Dad's races at local regattas. We had yet to do our first sponsored row, which I think was in late September or early October 1986.
We achieved our ambition by beating three other crews, which, if I remember correctly, were: Tyne, Dacre and Tyrannosaurus Rex. It was one of the few times this race has started from Putney - and the finish was also shortened, from Mortlake to Hammersmith Bridge, because of the atrocious conditions.
This event has always been one of the highlights of our rowing year - and there are very few years since that first race when we have not entered at least one crew. To this day, we have never finished last and, in fact, our results have steadily improved over the years.
In our first Vesta Head we rowed as Kingston Grammar School - and it was not until a few months after our race in the same event the following year, when we again rowed as Kingston Grammar School, that we became an ARA affiliated club in our own right (following an objection from another club, on the grounds that we were not schoolboys).
The crew were:-
| | |
| --- | --- |
| Bow | John Trench |
| 2. | John Cracknell |
| 3. | Roger Grubb |
| 4. | Peter Boulin |
| 5. | John Sharp |
| 6. | Peter Hartman |
| 7. | John Prosser |
| Stroke | Alan Culley |
| Cox | Donald Taylor (KGS 1st Eight cox) |